If your answer is YES, then suffer no more! COLBENT'S Paint Brush extender Adapater tool is here to save the day!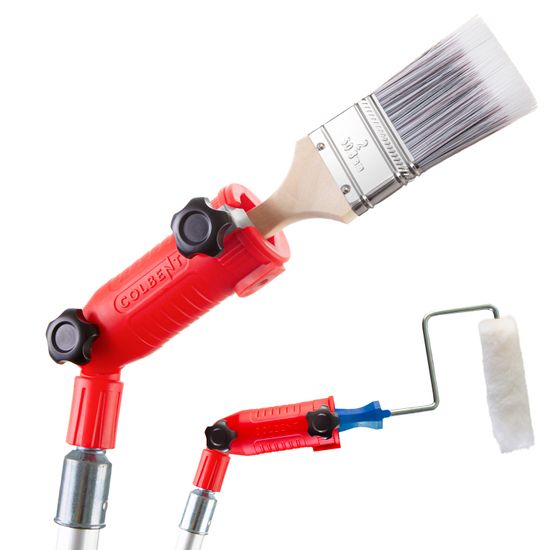 COLBENT ® Multi-Angle Paint Brush Extender for threading extension poles
Speed-up your job by reducing the Hassle of climbing Up & Down Ladders With Our Cutting In Paint Tool!
Look What our Customers Have to Say
It works and probably saved my life.
B Moore
First the basics, it arrived on time and is as it looks. I needed to paint some nooks and corners which, even with a ladder, were a dangerous reach. I was able to firmly attach two different sizes of paint brushes and with a pole could safely brush paint where I needed. For closer areas the extender works without the pole, by adding a little length of the paint brush handle. Sorry, I did not need to try it with a roller yet.
This Colbent extender tool is a gift from heaven!!
Sewing by Linda
Colbent company, I can't thank you enough!! My bathroom had been in desperate need of painting for about 3 years. I hadn't even tried, being scared at my age about being high on a ladder and still not being able to reach the ceiling and upper walls where the vanity, commode, and bathtub are in the way [...]
Fabulous find!
Jeanette West
I am working on a two story house. Using a 24 Foot pole with this on the end. It is awesome! It has worked fabulously! Able to paint everything I could not get to with this paint brush holder! I was told that I would need four levels of scaffolding and three guys painting the trim on the house. It took one guy the 24 foot pole and this angle brush holder and took about two hours to do everything!
The painters tool you whish you always had! Gain full control and precision over the painting angle! Turn your normal rigid brush into an angular brush so you can paint any spot of your home! Paint up to 10 times faster by reducing the hassle of climbing up and down ladders with our paint extender adapter, the greatest ally for any paint extender pole.
Do not put yourself in risky situations that could lead to unnecessary home accidents. Instead, paint directly from safe ground!
Our paint pole attachment is made to fit most brush sizes and styles. From 1″ up t o 3″ wide brushes. From long to short, angled or flat, it works like a charm as a ceiling edge painting tool or cutting in
Did we mention it also works with paint rollers? And it doesn't stop there! Our versatile painters tool can be used as a ceiling edge painting tool, extension holder tools, paint roller attachment or even as a paint scraper extension! Colbent's paint brush extender is a great add-on to any painters tools and accessories.
So what are you waiting for? Make your paint job easier and faster with Colbent's Paint Brush Adapter tool!